As cliché as it may sound, Copenhagen is one of the most beautiful Scandinavian cities and definitely the most frequented one. From stunning castles, to museums, amusement parks, and an incredible food scene, the Danish capital can surprise any visitor. Of course, it is not an ideal backpacking destination, so budget travelers have to be smart. In this simple post, we are sharing tips on how you can explore Copenhagen like a pro and in your budget.
Book a serviced apartment
Yes, you read that right. Hotels in Copenhagen can feel small, especially the budget ones. If you want real value for your money, consider one of the serviced apartments. Most apartments in copenhagen holiday offer full stack of facilities and services, with the privacy that you can never get at a hotel.
Don't stay too far from the city center
Cabs in Copenhagen can be expensive, and it is wise to find an area that's close by and has access to public transport. Østerbro, for instance, is a great neighborhood with picturesque streets and beautiful homes. You will also find some high-street cafés and restaurants here, and the area also has a beach called Svanemøllestranden.
Pay for a city tourism card
Copenhagen visitors can go for one of the many cards that offer admissions to selected museum, castles and attractions, and you can even get free transportation and special discounts. If you have a plan in place, check what a particular city tourism card covers and plan accordingly. Some cards also offer free waterway/boat rides.
Avoid eating at fancy places
You might be tempted to have a fine dining experience at Nyhavn or at one of the other expensive restaurants, but we recommend against it, especially if you are trying to save money. Scandinavia has a thing for hotdogs and street food, and you can find many stalls all over the city. If you want to try more options in less money, head to Paper Island.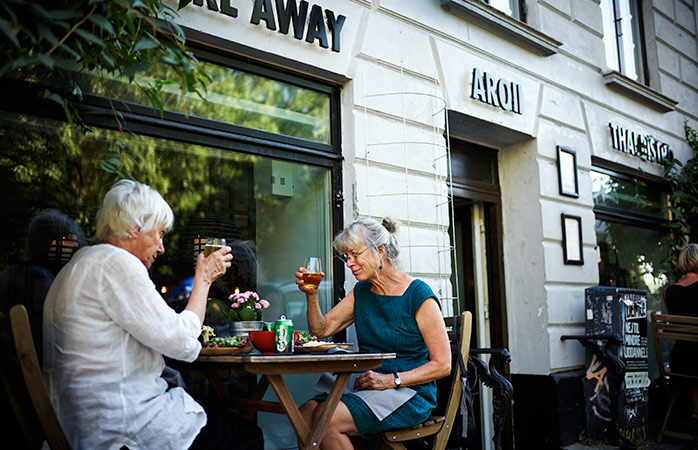 Go for bike rides
Instead of relying on cabs, go for bike rentals in Copenhagen, and that doesn't have to cost a fortune. You can find docking stations along the way, and we promise that the lanes are better than most parts of the world. In fact, a lot of locals also take the bike all the way to work, especially if they are coming by train. You can also get bikes with tablets that have GPS.
Check online for Copenhagen guides now!