Many experienced yachters will praise the history of Italian shipyards, the skill of Dutch shipyards, or the creativity of British shipyards, but many American yards, like Hatteras Yachts, are building some of the best motor yachts on the market right now. Hatteras has been building yachts for more than 60 years and is one of the best in the US. Willis Slane started the yard in 1960. He wanted to make a new kind of fishing boat that would be strong enough to handle the waves off Cape Hatteras. Over the years, the yard has grown quickly. Since it made its first boat, which was the world's first 41-foot fiberglass sport fishing yacht, Hatteras has made more innovative yachts, including the first ones with a convex and modified-v hull, which was a big deal at the time. We list three of the best Hatteras models that are currently for sale through FGI Yacht Group. These three models are the best in terms of quality, luxury, and design.
Hatteras GT70
The new version of the Hatteras 70 is the Hatteras GT70. This 21.49-meter sport fish yacht is made for tournament anglers who want more. It will do well even in the toughest conditions. With a cruising speed of around 30 knots and a top speed of more than 40 knots, she is fast and agile, but still easy to move around. She was made with comfort in mind, with an exclusive interior design, a state-of-the-art galley, and a large salon where guests can hang out or be entertained in between long battles with marlin in the Bahamas. With five staterooms and four heads, she can comfortably sleep up to nine people for the night. She is one of the best tournament fishing platforms on the market. She has two Cat C-32A diesel engines that power her.
Hatteras 75 MY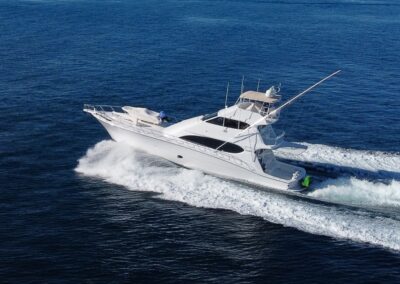 The Hatteras 75 is still one of the yard's most popular boats, and for a good reason. Her 23-meter length and beautiful sweeping lines make her a classic design that will never go out of style. This flybridge motor yacht is great for cruising because it has the perfect mix of speed, performance, and comfort in a very stylish package. Every part of her design has been carefully thought out, making her the perfect motor yacht for people who want to explore all the hidden bays along the winding coast or have a weekend party with family and friends. Her main saloon makes the most of her wide-body design with an open layout that flows into the dining area. Her flybridge can fit up to 20 guests on L-shaped loungers next to a tender and water toys. With her five staterooms and full-beam master suite on the lower deck, she can sleep up to ten people.
Hatteras 100 MY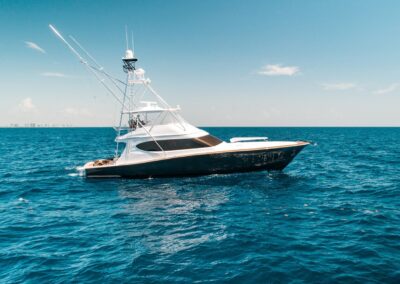 The Hatteras 100 Raised Pilothouse motor yacht, which used to be the ship's flagship, strikes the perfect balance between tradition and new ideas. The outside of the yacht was designed by Team for Design by Enrico Gobbi. It is 31 meters long. This motor yacht is made for living outside on the water. It has an elegant composite hull and a GPR superstructure. With an interior height of almost 7 feet on the main deck, her rooms feel big, airy, and welcoming, making her a great place to have family and friends over. The Hatteras 100 can be set up in a number of ways, including a main deck layout with a full-beam master suite up front. This boat can accommodate all needs. In her four staterooms, she can sleep up to eight overnight guests, and she has space for up to four crew members.